Back to all posts
Posted on
National Inclusive Education Awards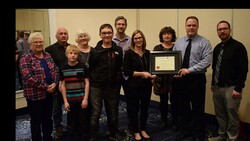 École Queen Elizabeth School was one of 5 schools who were presented with a National Inclusive Education Award.   We're very proud to have been nominated by Mrs. Befus and Kyan.
The National Inclusive Education Award is an initiative organized by the Canadian
Association for Community Living (CACL) and its provincial and territorial member
associations. The Award for Alberta is provided jointly by CACL and Inclusion Alberta, with
acknowledgement from Alberta Education, to honour a teacher, administrator, school
or school district whose commitment to inclusive education is exemplary and deserving
of recognition.