Back to all posts
Posted on
GIVE YOUR OLD SHOES NEW LIFE - QueenE is collecting gently used shoes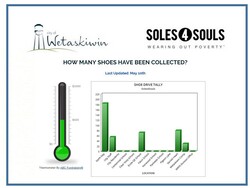 70 pounds of textiles are thrown away per person every year.  It's estimated only 15% is donated or recycled.   Re-purpose your shoes and help wear out poverty.
The City of Wetaskiwin has joined the non-profit Soles4Souls Canada to collect new and gently used shoes for children and adults all over the globe.
If you're looking to do a little spring cleaning, bring your shoes to Queen E or any of the schools in Wetaskiwin.
Wetaskiwin is hoping to reach 1000. pairs of shoes!
Here at Queen E we've already collected 84!  Follow the count at https://www.wetaskiwin.ca/901/Shoe-Drive