Welcome Back to all our Students!
Start of School Details - 2020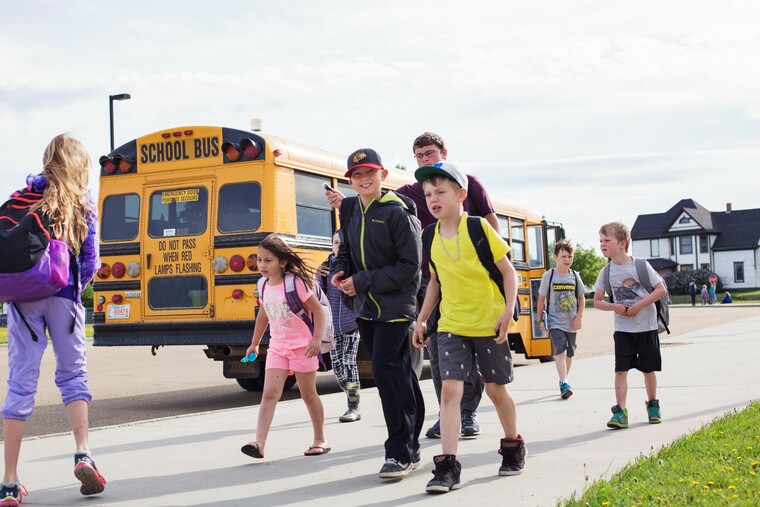 Welcome!
Queen Elizabeth School has been reconfigured for the 2020-2021 school year as a Kindergarten to Grade 8 school offering programming in English on the Regular School Year Calendar.
Our first day of school for all students gr 1-8 is September 2nd, 2020 and September 3rd, 2020 for Kindergarten.
If you are in grades K-4 this year, you will be going in the West doors (by the playground); and if you are in grades 5-8 this year, you will be going in the East doors (by the office) and climbing the stairs (sigh) to your lockers and homerooms.
Don't forget to bring all of your school supplies with you to school on the first day!
We are looking forward to a great year ahead in our new building, with our great playground, and some new faces as well. Let's work together to make this year the best year ever!
Riding Your Bike to School?
If you are riding your bike to school, don't forget to:
Wear a helmet
Walk, don't ride, through crosswalks
Bring a bike lock
Lock your bike in the bike racks by the office
Please note: due to space restrictions, bikes are not allowed to be stored in the office.   *However, scooters and skateboards are welcome.
Crosswalk Safety: Pedestrians and Cars and Bikes... YIKES
Walking in a crosswalk to get to school? Driving though a crosswalk while passing the school? Biking to school? Remember these safety tips...
Pedestrians (Walking)
Always cross the street in a marked crosswalk (you'll know it when you see it!)
Watch for signals (walk signal means, well, walk; hand signal means don't start walking!)
Look LEFT - Right - LEFT before you walk
Be careful when walking past stopped vehicles (cars and trucks) in case another vehicle is coming!
Drivers
Please yield to pedestrians in crosswalks and at intersections
Be prepared to stop at crosswalks
Be alert for pedestrians, cyclists and skateboarders
Cyclists
If you're riding a bike... you're a vehicle! 
Yield to pedestrians (let people who are walking go first)
Watch for passing vehicles!
Buses
Please remember that buses will not be operational until the start of the regular school year, this year that date is SEPTEMBER 2nd, 2020.
Please call Billy Loiselle at 780 352 6018 (x242) to verify bus for students.   Our routes have changed.